With fall finally in full swing, we wanted to take a moment to keep you informed on what's changed or what's coming down the pipeline.
The Heat & Glo Cosmo and Heatilator Rave Series are Getting an Upgrade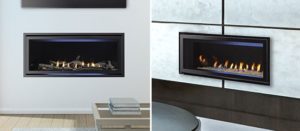 The Heat & Glo Cosmo & Heatilator Rave gas fireplaces bring together modern design, highlighted by clean lines and elegant ambiance. Now, key NEW features have been added to enhance the firescape. These product enhancements are significant and it will be required to replace existing displays. Due to the new and improved viewing area, current fronts will not work on the new units and no upgrade kit will be available. If you have any existing units in inventory without fronts, please place your front orders to match your unit inventory.
New features include:
IntelliFire Touch control system with optional RC400 hand-held touchscreen remote or RC150 wireless wall switch (optional)
Additional 2″ of viewing height
Optional Driftwood Log and River Rock Stone media (Cosmo only)
Heat Management Technology with optional fan and Heat Out
Optional LED accent lighting provides additional ambiance
Optional SmartWall TV kit, which enables a TV to be placed just 12″ above the fireplace opening without a mantel/shelf
Clean Face Front (CFT) replaces the Tonic and Deco fronts
42″ models now require a 12″ vertical before attaching any elbow. This will require an additional 2″ of height to the chase when compared to the current model; 32″ venting specifications remain unchanged.
Reduced framing dimensions for easier installation.

What's not changing:
Same modern linear style homebuyers desire
32″ and 42″ viewing area widths./;'\
Ships standard with Ebony Black Glass media
Heat Management Technology with the use of the Heat-Zone or Heat Duct kit
Optional reflective black glass liner
Controlled by a basic on/off switch if the consumer only desires the on/off function
New units will begin to ship as early as December, only once stock of current units has sold through. Our Order Entry Team will adjust orders as needed and communicate with you to assure a seamless transition during this rolling change.
New product training will be available. Watch upcoming newsletters for additional information and updates.
Allure50 Brushed Stainless Steel in stock now!
The Allure50 brushed stainless steel panel and column accessory kit is ready to ship today! Update your Allure50 display unit with this new sleek look – part number 1-00-888135-6.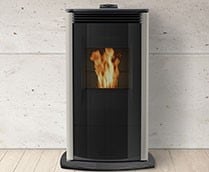 Did you miss last months article with updates to the Heat & Glo Slimline Series and Primo Series? Click here